astral salon
an astrology party guaranteed to bring you and your crew closer
How about a drink with a side of destiny?
T
he AstralSalon started in my backyard studio in Los Angeles — okay, Van Nuys — with my witchiest friends.
Every month, we'd meet up, drink wine and laugh and complain.
Oh, and we talked astrology, too.
Eventually, we settled into a routine.
I started with a 20-minute PowerPoint presentation -- heavy on humor and GIFs. Sometimes we talked about the astrology behind the news of the world. Other times we talked the astrology of relationships or career or just the basics of how it all works.
 Then each person got a 10-minute reading about their personality and their life in that moment.
No matter what we talked about, we got closer and more vulnerable with each other -- every time.
This is what I can do for you and your friends. Bring you closer. Help you understand yourself. And have a lot of fun!
A 20 minute PowerPoint presentation is tailored to your group's interests. Some cover how your group relates. Others discuss the basics of astrology. Still others track the planetary trends and how they are influence our experience.
Each person provides their birth data ahead of time. Then I cast individual Natal Charts and discuss them in front of the group. Each reading is about 10 minutes and discreetly discusses the best aspects of the individual's personality, life themes and current trends.
The experience inevitably draws people closer. It's common for friends to validate each other's best qualities as revealed by their Natal Charts. Often, the astrology becomes a conversation starter that supports a deeper level of camaraderie.
FREQUENTLY ASKED QUESTIONS — ASTRAL SALON EDITION
1 SO WHAT'S THE 20 MINUTE POWER POINT ABOUT ANYWAY?
For first-timers, I explain (super briefly) what astrology is — and is NOT — and how it works. I explain what a Natal Chart is and how it works.
Sometimes I talk about what's going on in the skies right now and how it's affecting all of us. Other times I focus on the True Path. These can be tailored to the needs of the group.
My slides are GIF-happy and silly but also to-the-point and beautiful. PowerPoint is one of my super powers. IMHO.
2. THEN HOW DO THE LIVE READINGS WORK? SHOULD I BE SCARED ABOUT WHAT YOU'RE GOING TO SAY IN FRONT OF EVERYONE?
First — I aim to entertain and inspire camaraderie with these live readings.
The idea is not to embarrass/shame/provoke anyone.
We will not discuss your childhood wounds/your troubled marriage/your overbearing mother unless you and your friends explicitly request that.
Instead, I'll tell you what makes you special. I'll tell you why you probably like each other. Then I'll ask you what you want to know.
3. HOW DO WE GET COPIES OF OUR CHARTS?
The day after the evening, I email PDF copies of each person's Natal Chart, along with a PDF copy of the PowerPoint presentation.
Everyone will also get put on my mailing list for my weekly horoscopes as well as a discount on hourlong readings.
All my contact info — and a button to book a reading — will be in my email.
4. AS HOST, DO I GET ANYTHING SPECIAL?
Yes! Hosts are entitled to a free hourlong reading!
We will schedule your hourlong the day after the AstralSalon.
If we happen to be in the same city we can do this in person.
Otherwise, I use Zoom video conferencing. We meet up live online and I record our session together so you can review it repeatedly!
5. WHAT HAPPENS IF I HAVE A LAST-MINUTE GUEST WHO DOESN"T KNOW HER BIRTH TIME?
Tell her to come! Her reading will be slightly different from those with exact birth times, but I will still be able to give her a solid 10-min live reading.
FEATURED AT NBC UNIVERSAL IN LOS ANGELES — OSHO COLLECTIVE IN NASHVILLE — NATIONAL HOLISTIC INSTITUTE IN THE BAY AREA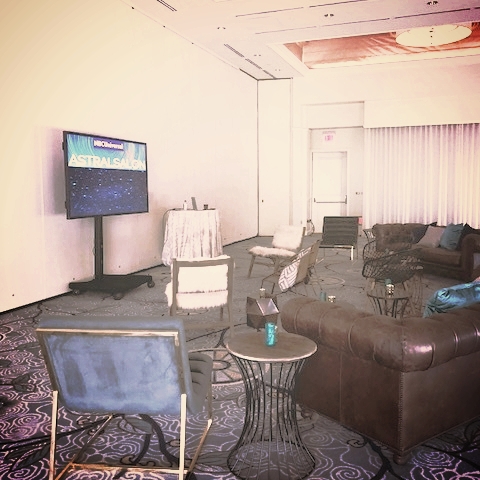 Y
OU get a bird's eye view of your own personality.
And your friends and co-workers are right there to reinforce the strengths that show up in your astrology — but that you often under estimate or overlook.
You get to do the same for your closest friends.
AstralSalon is the easiest ice-breaker, too. I do all the work for you.
You give me the birth data of everyone and then I tell you what you all have in common. I can also show you how you can help each other..
The AstralSalon is NOT a one-size fits all kind of deal. You tell me the goals of the get together. I can craft a PowerPoint to fit the occasion.
Check out my two most popular programs below.
Rates vary according to group size and location.
THE ASTROLOGY OF YOU
Learn how to use your Sun, Moon and Rising signs to unlock the secrets of self-acceptance. With a clear and concise PowerPoint presentation, each participant learns to identify the Sun, Moon, Rising Sign and how they shape the way you express yourself and how others respond to you. Together, we synthesize these to create the narrative of your most authentic self. You leave with a copy of your Natal Chart and a downloadable PDF of the PowerPoint.
Unlock Your True Path
What if you could pinpoint your soul's true purpose? The North Node in astrology explains the behaviors and pursuits that will bring you the most success and contentment and offers a path to getting there. With a clear and concise PowerPoint presentation, each participant learns how to identify their North Node and how it can direct their life. You leave with a copy of your Natal Chart and a downloadable PDF of the PowerPoint.
Y
our PowerPoint will be tailored to your group.
I've created slides about the state of the world and what astrology says about it.
And I've mapped out the year ahead.
For executive teams, I've created slides that explain how they work best together and who has what in common.
Whether you have a specific goal in mind — or you just want to have some fun! — I can create a slide presentation that fits your needs.
Y
ou and your team take home the following:
— A copy of their Natal Chart.
—A PDF download of the PowerPoint presentation.
—A discount on hourly readings.
—Access to my weekly newsletters.
—Each person can also record their mini-reading.